Everyone deserves to be rewarded, every day. It was with this idea in mind that Nicolas Salat-Baroux, Alexandre Hollocou and Xavier Starkloff created Joko. A shopping super-app, Joko assists consumers throughout the purchasing journey. The app uses account aggregation technology from Powens to offer automatic discount codes and cashback services. 
The need: efficiently
reward consumer loyalty
An outdated experience. That's what Joko's founders noticed about how loyalty schemes operate in France. One loyalty card per brand, with use limited to this one card, which overload your wallet or are left forgotten somewhere… Neither consumers nor brands benefit from this. This experience is no longer suited to current shopping and payment patterns. 
How can we reinvent it, to make it relevant to everyone? Joko took on this challenge. The app transforms the users' normal bank card into a loyalty card, valid across thousands of brands. 
A single app, which automates and centralizes all purchase rewards: that's what Joko offers. For this, it relies on Powens' Open Banking technology.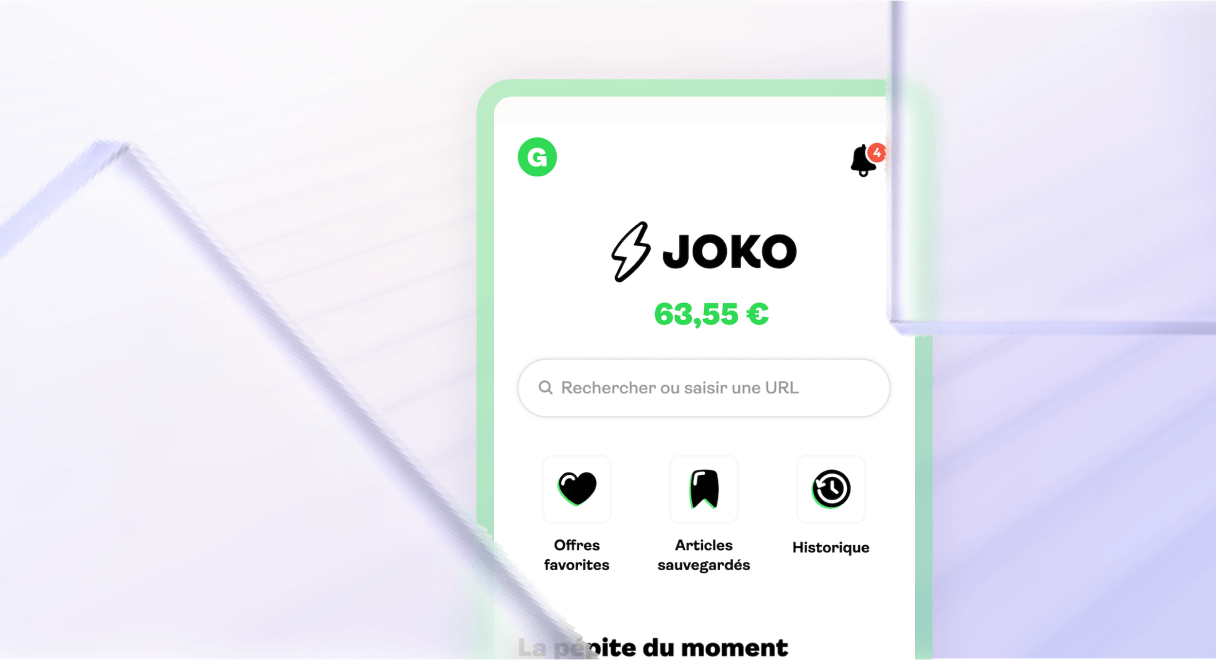 The solution: account aggregation
to automate rewards
when shopping
Whether the user spends at McDonald's, Carrefour or Leroy Merlin, they don't have to scan their loyalty card or show a discount code at the checkout. Joko automates the loyalty experience. 
When a new user joins the app, they link up their bank account, using the

Bank product from Powens

. They can then choose 5 subscriptions. These are the stores in which they most frequently make purchases. 

When making a purchase, the user pays with their bank card. Thanks to account aggregation,

Joko receives the transaction information in real time. The app recognizes the purchase and credits the related loyalty points for the brand. 

Centralized in a single account on the app, the loyalty points can be converted into a gift card or transferred into the user's current account. 
The loyalty experience becomes smooth and effortless for consumers.
For brands, Joko is an interesting solution to win over and retain customers. Brands can offer promotions to prospective customers or reward their existing customers' loyalty. Moreover, they have the opportunity of conducting drive-to-store campaigns and measuring the ROI using payment data.
A brand in a user's 5 subscriptions sees the frequency and amount of purchases increase. Spending is 15% higher on average. 
"Account aggregation technology from Powens is the key to our application. It's the heart of the product."  – Jérémie Letonnelier, Operations Manager, Joko
The results 
Thanks to Bank, Joko is offering a radically different loyalty experience, adapted to new uses. Consumers are rewarded for their purchases, without having to do anything or even think about it. 
Figures: 2020 – 2022
1.5m

users

€120

earned per user per year

15 % average higher spend on a brand in the user's subscriptions.
The company's ambition is clear: to be in every French person's pocket and in every European's pocket tomorrow. 
Do you want to tap into the potential of Open Banking?
Schedule a demo with a Powens expert.