Innovative fintech startup, Wealthcome launched in 2023 with a bold mission to make it possible for virtually anyone to monitor, analyze, and optimize their wealth on their own—all from the comfort of a free, secure, and easy-to-use app. And in an effort to help customers become investment experts in their own right, they've paired the app with the Wealthcome Network: a hub for educational content and a dynamic community forum. However, to build this comprehensive DIY asset management platform, Wealthcome needed an easy, yet fully-compliant way for its customers to connect the app to almost any bank, financial institution, or wealth management partner imaginable. It soon became clear that only Powens' Open Finance solutions could help them achieve this.
The Need:
A simple, safe, and turn-key way to aggregate all of a customer's financial data in one place
Before Wealthcome started working with Powens, they attempted to develop their own proprietary connector. They quickly learned that doing so would be a very tedious and time-consuming task because it would require them to get approval from every bank, financial institution, and wealth management partner to connect to their app. That's not a quick or easy process for a new-to-market startup to scale—especially when you consider the full breadth and depth of the French financial partner ecosystem.
Still, however, to get the app into its beta phase, they needed to accomplish two things:
Activate connectors with thousands of financial partners instantly; and
Create a safe and reliable way for customers to aggregate their data in the app.
The Solution: Open Finance for bringing a new app experience to market in a matter of months (not years) 
Once Wealthcome learned about Powens' Bank and Wealth financial data aggregation solutions, they realized there was no reason to continue down the path of developing their own connectors. After all, Powens already had a safe, secure, fully compliant, and industry battle-tested solution in place that could eliminate hundreds (if not thousands) of dev hours, thereby allowing them to scale and deploy rapidly. By having a turn-key way to accelerate the app's ability to ingest and aggregate over five thousand financial data sources instantly, they were able to shift their focus to building better and more robust features.
Simply put, Powens enabled Wealthcome to speed up its go-to-market efforts, helping them iterate quickly through the app's beta phases before soft launching in December 2022.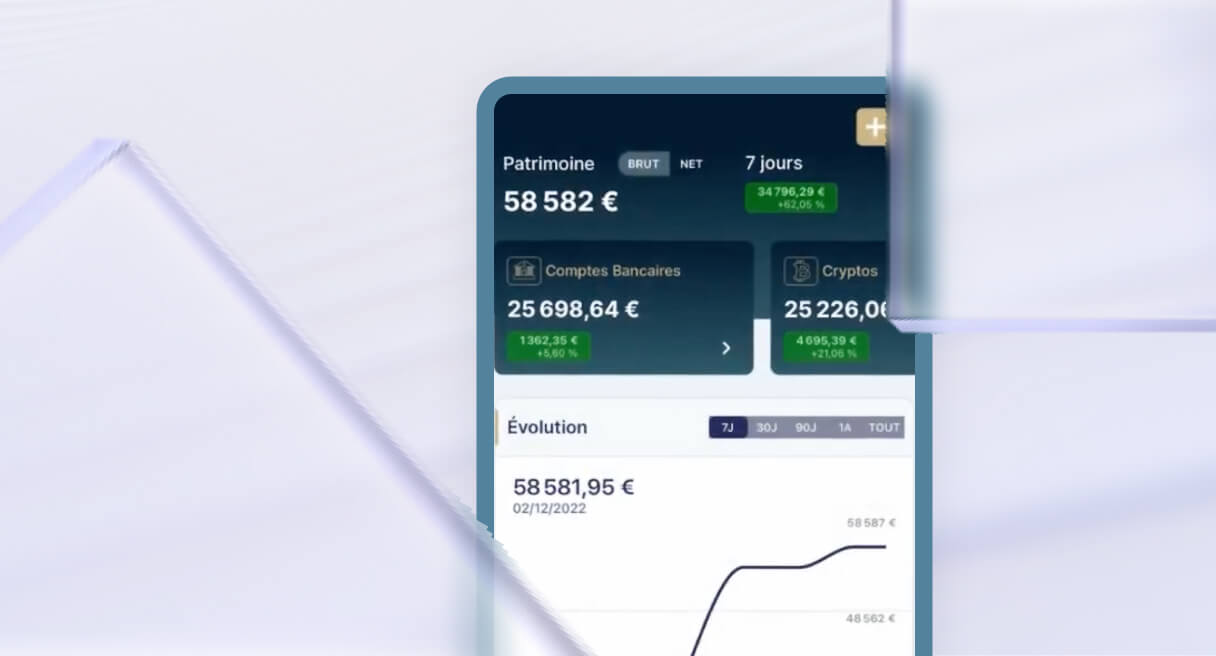 The Results: Taking the learnings from the beta phase to make wealth and asset management accessible to all
Because Wealthcome was able to dedicate more upfront time to building a better app experience, they were able to deploy various beta test phases quickly and take action on valuable customer feedback to develop a more robust feature set at launch.
The most important thing they learned through this process, however, was that there was a real appetite in the market for a DIY wealth and asset management solution that could meet the needs of all types of investors, regardless of their experience level. This reaffirmed Wealthcome's proof of concept and positioning as an entry point for the investment world.
By tapping into the power of Powens' Open Finance solutions, Wealthcome was able to create an app experience that makes aggregating, monitoring, analyzing, and optimizing multiple financial data sources easier than ever. Not to mention, this has raised Wealthcome's profile, giving them a legitimate "seat at the table" for encouraging traditional banks, insurance companies, and other financial institutions to embrace digital transformation—in an effort to modernize the banking and asset management industries.
2K+
new Wealthcome users since January 1, 2023.

€300M+


worth of assets currently being aggregated in the app.
5,000+
connectors to leading financial partners.
" We couldn't have built and scaled Wealthcome so quickly and effortlessly without Powens by our side. They gave us the keys to unlocking the power of Open Finance to create one of the industry's most comprehensive DIY wealth and asset management apps. "

Cyprien Delmeule, President & Founder – Wealthcome.
Ready to transform your business

with the power of Open Finance

Contact our team today to schedule a demo of our Open Finance products and services.